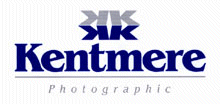 KENTMERE
Kenthene
For those who prefer the qualities of traditional graded papers on a resin coated base, Kenthene offers more than just an alternative. Kenthene is a high quality uersatile paper, with truly superior blacks. A significantly deeper richer black can be achieved compared with many alternatives and in a fraction of the time, due to fts high speed sensitive emulsion.
Designed for fast processing with superior dimensional stability, Kenthene boasts a range of grades and surfaces second to none, including Satin, Stipple and Glossy finishes. Superior lustrous blacks of neutral image tone, brilliant base whites and excellent tonal rendition characterise Kenthene, the discerning alternative for those who prefer graded papers.
Product Description
Kenthene is a resin coated medium weight paper with a high speed graded emulsion. Available in contrast grades 0 - 4.

Surfaces
Glossy: This paper has built-in glaze to provide the maximum black density and overall print brilliance. Maximum gloss is achieved through hot air drying.
Satin: A semi-matt surface provides a quality enlarging paper with low reflectance properties which facilitates print retouchi rig.
Stipple: An embossed semi-lustre paper with a high density range.
Paper Structure
Paper Base
The paper is 190 g/m2 coated on both sides with 40 g/m2 of polyethylene giving a base weight of approximately 270 g/m2 and a thickness of approximately 245ìm.

Coated emulsion layer
The light-sensitive silver halide emulsion layer has a silver content of approximately 1 .6 g/m2. This is covered with a gelatine supercoat which protects the emulsion from stress fogging and physical damage and also contains a developing agent.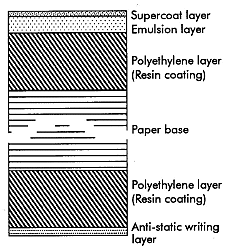 (Not to scale, for information only)

Sensitivity ISO Paper Speed
(ISO speed to ISO 6846 - 1 992)

| | | |
| --- | --- | --- |
| Kenthene grade | 0 | ISO P320 |
| | 1 | ISO P320 |
| | 2 | ISO P320 |
| | 3 | ISO P320 |
| | 4 | ISO P200 |
Contrast range
(ISO range to ISO 6846 - 1 992)

| | | |
| --- | --- | --- |
| Kenthene grade | 0 | ISO R120 |
| | 1 | ISO R100 |
| | 2 | ISO R80 |
| | 3 | ISO R60 |
| | 4 | ISO R40 |
Maximum density
Kenthene will achieve the following maximum densities:

| | |
| --- | --- |
| Glossy | 2.20 |
| Stipple | 1.95 |
| Satin | 1 .90 |
(the Satin surface contains matting agents which reduce the maximum density achievable)
All these figures represent an average of the achievable results. A small amount of production tolerance is included. Actual results achieved may differ depending on processing, paper age and storage conditions.

Density/Characteristic curves
(Glossy surface)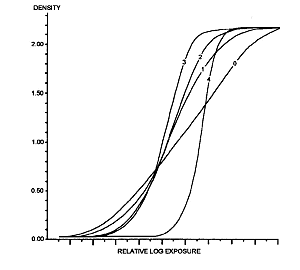 Results achieved using Kentmere VC Select Plus Developer at 1 + 12 at 20C as recommended under processing instructions. Other recommended developers and fixers (see Processing) should give comparable results.

Safelighting
Kenthene graded papers have conventional bromide emulsions, which can be used under standard safelights for non-VC type printing papers. Always keep safelight exposure to a minimum; returning unused paper to its original packaging.
Safelight filters which are suitable for use with Kenthene graded paper are Kodak OA, OB, OC, or 1A, and Ilford 902. Fluorescent safelight tubes such as Encapsulite A 10/ND.4 are also suitable.
Other safelights can be used, but tests should always be carried out first. Processing
To maximise d. max, and tonal rendition, we recommend a high activity chemical system such as Kentmere VC Select Plus Developer and Fixer. The following developers will also give excellent results under either machine or dish development. In alphabetical order: Agfa Neutol, Champion B&W Multicontrast, Ilford Ilfospeed, Ilford 2.000, Kodak Polymax, and Tetenal Variospeed developers, together with their appropriate fixers. Equivalent products from other manufacturers should give similar results, as will most multicontrast developers.
The following table shows recommended dish processing conditions for use with Kentmere VC Select Plus Developer and Fixer. If using another manufacturer's chemistry, refer to their instructions for recommended processing conditions, to achieve similar results.
Kenthene graded papers are not suitable for use with activation chemistry.

Chemistry
Dilution
Temp.
Time
Kentmerer VC Select Plus Variable Contrast
Developer
1 + 6
1 + 12
20C
20C
60 - 80 s
1 00 - 1 20 s
2% Acetic acid stop bath
-
20C
1 0 s
Kentmere VC Select Plus Varaible Contrast
Fixer
1 + 4
1 + 9
20C
20C
60 - 90 s
90 - 1 80 s
Wash in running water
-
-
4 minutes
Drying
Kenthene graded paper can be dried using any standard resin coated paper drying methods, these include:
Warm air drying up to temperatures of
80C.
Atmospheric drying, having removed excess surface water using a suitable print squeegee.
Warm air drying, as in purpose made print drying cabinets.
Infra-red dryers such as the Ilford Ilfolab 1 250 Dryer or similar.
Note:- Kenthene graded paper should NOT be used with a rotary glazing/drying drum or flat bed glazing/drying press. Technical enquiries
Please address any technical enquiries to: Kentmere Limited Photographic Division, Staveley,
Kendal, Cumbria LA8 9P8. Tel: O1 539 821 365 Fax: Ol 539 821 399 Replacements
Kentmere Limited will replace or credit the value of any Kentmere papers if found by us to be defective in manufacture, our liability being confined to the value of the paper only. In all such cases, proof that the paper was defective would be required.