KODABROMIDE PA P E R KODABROMIDE Paper is a fast, graded-contrast, black-and white paper with a fiber base. It is designed for commercial, industrial, professional, and press photography applications. The paper is designed for enlarging, but with reduced illumination, you can use it for contact printing.
It is available in F (contrast grades 1-5) surface in a variety of sheet and roll sizes.


FEATURES
BENEFITS

Neutral-black image tone
White fiber base
High speed

Exceptional print quality
Crisp, clean whites
Short exposure times
BASE AND SURFACE CHARACTERISTICS
Symbol
Texture
Surface
Base
Tint
Base
Weight
F
Smooth
Glossy*
White
SW, DW
*When ferrotyped. This paper dries with a smooth lustre when dried on screens, blotters, or non-ferrotyping dryers.

Contrast Grades

With this type of negative:
Use paper with
this grade number:
High contrast
Normal contrast
Low contrast
Very low contrast
Extremely low contrast or line work
1
2
3
4
5
SAFELIGHT RECOMMENDATIONS

Use a KODAK OC Safelight Filter (light amber) in a suitable safelight lamp with a bulb of 15 watts or less at least 4 feet (1.2 metres) from the paper. Minimize safelight exposure to avoid unwanted quality changes.
Be especially careful if you use other types of safelights. See KODAK Publication No. K-4, How Safe Is Your Safelight?, for information on safelight testing.
Note: Do not use a KODAK OA Safelight Filter (greenish yellow).

STORAGE AND HANDLING


Store paper in a cool; dry place (preferably at or below 70F [21C] and at a relative humidity of 30 to 50 percent). High temperatures or high humidity may produce undesirable changes. Always rewrap unused paper in its original packaging (the outer box as well as the inner wrapper) to protect it from light and moisture. Avoid or shield the paper from exposure to radioactivity or x-rays.

EXPOSURE
Light Sources
Expose this paper with tungsten or tungsten-halogen enlarger lamps. You can use other light sources, such as cool-white fluorescent lamps, mercury-vapor lamps (cold light), or cathode-ray tubes. For best results, make test prints to determine the exposure time for each light source.

ISO PAPER SPEED AND RANGE

Tray Processing-Processed in KODAK DEKTOL Developer (1:2) at 68F (20C) for 90 seconds.

Surface &
Contrast
ISO Paper
Speed
ISO Paper
Range
F1
F2
F3
F4
F5
P500
P320
P200
P160
P125
R130
R110
R90
R70
R60

PROCESSING
Tray
Tray develop with continuous agitation at 68F (20C), using the appropriate dilution and development time recommended in the following table.
Note: Machine processing of KODABROMIDE Paper is not recommended.

KODAK
Chemical
Dilution
(chemical:
water)
Time
(min:sec)
Capacity
(8 x 10-inch
Prints
per gal/L)
Developer 68F (20C)
DEKTOL (powder)
POLYMAX T
1:2
1:9
1:30
1:30
120/32
120/32
Stop Bath-65 to 75F (18 to 24C)
Indicator
EKTAFLO
1:64
1:31
0:15
0:15
80/20*
80/20*
Fixer (single bath)t -65 to 75F (18 to 24C)
Non-hardening fixer (for general printing and for toning):
Rapid Fixer,
Solution A (do not
use Solution B)
1:7
5:00
100/26
Hardening fixers (for general printing):#
KODAK Fixer
POLYMAX T
Rapid Fixer(Solution A and B)
KODAFIX Solution
-
1:7
1:7
1:7
10:00
5:00
5:00
5:00
100/26
100/26
100/26
100/26
Wash-
With Washing Aid-50 to 86F (10 to 30C):
Hypo Clearing Agent
stock
solution 1:4
3:00-DW;
2:00-SW
80/20 without
pre-rinse;
200/50 with
1-minute
pre-rinse
Wash
-
20:00-DW;
10:00-SW
-
Without Washing Aid-50 to 86F (10 to 30C):
-
60:00
-
*Discard the solution when color changes to a purplish blue.
tTo increase capacity, use two fixing baths.
#A hardening fixer may improve release on ferrotyping drums.

Stop Bath


Bathe prints for at least 15 seconds at 65 to 75F (18 to 24C) with continuous agitation in KODAK EKTAFLO Stop Bath, KODAK Indicator Stop Bath, or 48 mL KODAK 28% Acetic Acid and water to make 1 L.
With EKTAFLO or Indicator Stop Bath, discard the solution when the color changes to a purplish blue. Change Acetic Acid and water stop bath after approximately twenty 8 x 10-inch prints per litre (eighty 8 x 10-inch prints per gallon).

Fixing
Fix prints at 65 to 75F (18 to 24C) with frequent agitation. With KODAK POLYMAX T Fixer, KODAK Iapid Fixer (Solution A and B), or KODAFIX Solution, if you use two fixing baths, fix prints for 21/2 minutes in each bath, draining for 5 seconds between baths. Fix for
5 minutes if you use a single bath.
With KODAK Fixer, if you use two fixing baths, fix prints for 5 minutes in each bath, draining for 5 seconds between baths. Fix for 10 minutes if you use a single bath.
Note: Using a hardening fixer makes toning less efficient. For the same amount of processing time, you'll see less of a toning effect.

Washing
Wash for one hour in running water at 50 to 86F
(10 to 30C), interleaving the prints carefully and frequently. The wash-water flow rate should provide at least one complete change of water in the container every 5 minutes. The KODAK Automatic Tray Siphon provides proper movement and agitation during washing.
Avoid prolonged washing and soaking times to minimize physical damage to the prints.
To reduce time and conserve water, use KODAK Hypo Clearing Agent before washing. Transfer the prints, with or without a previous rinse, to the clearing agent. Following the Hypo Clearing Agent, wash double-weight prints for 20 minutes (single-weight prints for 10 minutes) with agitation and normal water flow.

Drying
Remove as much surface water as possible from prints and dry the prints in a dust-free place. Place prints face down on a cheesecloth, fiberglass, or plastic screen racks; between photo blotters; or on a belt dryer.
For glossy prints made on F-surface paper, transfer the wet prints directly from the wash to a ferrotype dryer (glazing machine) or to clean, wet ferrotype plates. Squeegee the prints into close contact with the plates and allow them to dry.

Characteristic Curves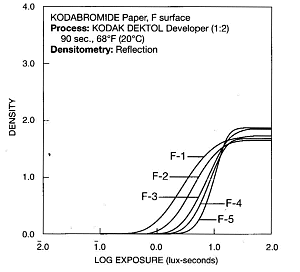 NOTICE: The sensitometric curves and data in this publication represent product tested under the conditions of exposure and processing specified. They are representative of production coatings, and therefore do not apply directly to a particular box or roll of photographic material. They do not represent standards or specifications that must be met by Eastman Kodak Company. The company reserves the right to change and improve product characteristics at any time.

TONING
Treatment with a toner extends the life of prints that may be exposed to oxidizing gases or subjected to adverse storage or display conditions. KODAK Toners will protect prints whether or not they produce a tone shift.




Processing
Tone Shift with KODAK Toners
Full
Slight
None
Tray
(DEKTOL
Developer)
Sepia
POLY TONER
(1:24)
(1:50)
POLY TONER
1:4
Brown (1:19)
Rapid
Selenium
(1:3)
(1:9)
(1:20
(1:40)
For more information on toning, see KODAK Publication G-23, Toning KODAK Black-and-White Materials. It explains the technique of toning, and describes Kodak toners and their effects on Kodak black-and-white papers and films.