KODAK P -MAX Art R C PA P E R KODAK P-MAX Art RC Paper is a fast resin-coated black-and-white enlarging paper designed for hand coloring with oil paints, liquid or dry dyes, pastels, and pencils. It features a neutral- to warm-black image tone, excellent "tooth," and a double-matt surface that make it an excellent choice for fine-art applications. It is available in two contrast grades in sheets from 8 x 10 inches to 20 x 24 inches.
This paper has an incorporated developing agent. You can process it in the KODAK ROYALPRINT Processor, Model 417; in roller-transport or continuous processors; or in trays.


FEATURES
BENEFITS

Double-matt surface that provides excellent "tooth"

Can be hand-colored with oil paints, dyes, pastels, and pencils
Good writing surface

Allows printmakers to customize prints

Available in two contrast grades

Suits a variety of applications

Resin-coated, water- resistant base

Rapid processing, fast drying, and minimum curl
BASE AND SURFACE CHARACTERISTICS

Symbol
Texture
Surface
Base
Tint
Base
Weight
V
Suede
Double
matt
White
Heavy
weight
STORAGE AND HANDLING
Store unexposed paper in a cool, dry place (preferably at or below 70F [21C] and at a relative humidity of 30 to 50 percent). High temperatures or high humidity may produce undesirable changes. Always rewrap unused paper in its original packaging (use the outer box as well as the bag) to protect it from light and moisture. Avoid or shield paper from exposure to radioactivity or x-rays.
SAFELIGHT RECOMMENDATIONS
Use a KODAK OC Safelight Filter (light amber) in a suitable safelight lamp with a bulb of 15 watts or less at least 4 feet (1.2 metres) from the paper. Minimize safelight exposure to avoid unwanted quality changes.
Be especiallg careful if you use other types of safelights. See KODAK Publication No. K-4, Hou Safe Is Your Safelight?, for information on safelight testing. Do not use a KODAK OA Safelight Filter (greenish yellow).
EXPOSURE
This paper is designed for exposure with tungsten or tungsten-halogen enlarging lamps. You can also use other light sources such as cool-white fluorescent lamps, mercury-vapor lamps, and cathode-ray tubes. Make trial exposures to determine the optimum exposure.

Paper Speed and Range
Contrast
Grade
Effective
Paper Speed
Log Exposure
Range
2
400
0.91 to 1 .15
3
400
0.66 to 0.90

PROCESSING
Machine
You can process this paper in roller-transport processors (e.g., the KODAK POLYMAX IR Paper Processor) or continuous processors with KODAK POLYMAX RT Developer and Replenisher and KODAK POLYMAX RT Fixer and Replenisher or KODAK Rapid Fixer, Part A.
For rapid processing of this paper, you can use the KODAK ROYALPRINT Processor, Model 417, with KODAK ROYALPRINT Chemicals.

Tray
Tray develop with continuous agitation at 68F (20C), using the appropriate dilution and development time recommended in the following table.

KODAK
Chemical
Dilution
(chemical:
water)
Time
(min:sec)
Capacity
(8 x 10-inch
Prints
per gal/L)
Developer- 68F (20C)
DEKTOL
1:2
1:00
120/32
POLYMAX T
1:9
1:00
120/32
EKTONOL*
1:1
1:30
120/32
D-72 (formula)
1:2
1:00
100/26
Stop Bath-65 to 75 F.(18 to. 24C)
Indicator
1:64
0:10
80/20t
EKTAFLO
1:31
0:10
80/20t
Fixer/Replenisher (single bath)# 65 to 75F (18 to 24C)
Nonhardening fixer (for general printing and for toning):
Rapid Fixer,
Solution A (do not
use Solution B)
1:7
2:00
100/26
Hardening fixers (for general printing):
KODAK Fixer
PaPer
strength
2:00
100/26
POLYMAX T
1:7
2:00
100/26
Rapid Fixer
(Solution A and B)
1:7
2:00
100/26
KODAFIX Solution
1:7
2:00
100/26
Wash 50 to 86F (10 to 30 C)
-
4:00
-
* Provides greater development latitude.
t Discard the solution when color changes to a purplish blue.
# To increase capacity, use two fixing baths.

Stop Bath
Bathe prints for at least 10 seconds at 65 to 75F (18 to 24C) with continuous agitation in KODAK EKTAFLO Stop Bath, KODAK Indicator Stop Bath, or 48 mL KODAK 28% Acetic Acid and water to make 1 L.
With EKTAFLO or Indicator Stop Bath, discard the solution when the color changes to a purplish blue. Change Acetic Acid and water stop bath after approximately twenty 8 x 10-inch prints per litre (eighty 8 x lOs per gallon).

Fixing
Fix prints at 65 to 75F (18 to 24C) with frequent agitation. If you use two fixing baths, fix prints for
1 minute in each bath, draining for 5 seconds between baths. Fix for 2 minutes if you use a single bath.
Note: Using a hardening fixer makes toning less efficient. For the same amount of processing time, you'll see less of a toning effect.

Washing
Wash for at least 4 minutes in running water at 50 to 86F (10 to 30C), interleaving the prints carefully and frequently.

Drying
Air-dry at room temperature after removing surface water with a clean, lintless blotter or cloth, or a soft squeegee or sponge. You can also dry prints with warm air, or use a dryer intended for resin-coated papers.
Do not ferrotype prints made on this paper. You can use.ferrotype dryers (glazing machines) below 190F (88C) if you squeegee the prints and feed them base side toward the drum surface.

TONING
Use KODAK Toners to extend the life of prints that may be exposed to oxidizing gases or subjected to adverse storage or display conditions. KODAK Toners will protect prints whether or not they produce a tone shift.

Processing
Tone Shift with KODAK Toners
Full
Moderate
Slight
None
Tray (with
DEKTOL
Developer
[1:2])
Brown
POLY TONER
(1:24, 1:50)
POLY TONER
(1:4)
Rapid
Selenium
(1:3, 1:9
1:20, 1:40)
Sepia
For more information on toning, see KODAK Publication G-23, Toning KODAK Black-and-White Materials. It explains the technique of toning, and describes Kodak toners and their effects on Kodak black and-white papers and films.

HAND-COLORING
You can hand-color prints on this paper with a variety of color media. Use one or a combination of oil paints, dyes, pastels, or pencils to achieve the results you want.
Before you begin, here are a few tips:

Work with prints that are at least 15 percent lighter than normal.
Natural-looking skin tones are easier to reproduce if prints are toned with KODAK Sepia Toner (CAT 169 1757) or KODAK Brown Toner (CAT 146 4452).
Color lighter tones first (i.e. fair skin) as a guide for darker tones.
You'll need the following materials:
Color media
White, non-porous palette (palette with "wells" for holding liquid dyes)
Applicators-sable brushes, cotton swabs, loose natural cotton, toothpicks, wooden skewers, paper towels
Removers-kneaded rubber eraser, 5-percent clear, pure household ammonia
Spray lacquer
Steam source (for setting dry dyes)
Transparent Oils
Transparent oils, such as MARSHALL's Photo Oils, can help you achieve a broad range of results. They are easy to apply and remove, allow print details to show through, and are made specifically for use on photographic surfaces.
Wipe the print with a cotton tuft moistened in MARSHALL's P.M. Solution or equivalent.
Dry the print with a clean tuft.
Apply small amounts of color with a cotton tuft or swab, using a circular motion.
Rub the color to a thin, even layer with clean cotton.
Remove any stray color using MARSHALL's P.M. Solution or a kneaded rubber eraser.
Clean out the highlights with a dry cotton swab to give the colored areas more definition.
Buff the highlight edges with cotton.
When the print is completely dry, spray several light, even coats of a photographic lacquer over the finished print.
Liquid Retouching Dyes
Liquid retouching dyes, such as those in the KODAK Liquid Retouching Color Set (CAT 190 1743), are useful for achieving brilliant hues in small areas.
Use distilled water to premoisten large areas that you plan to color. For small areas, apply dye using controlled brush strokes or a stippling action. For larger areas, dilute dyes with distilled water, and use a "wash" or watercolor technique.
Remove liquid dye by wiping it with 5-percent clear ammonia, followed by distilled water.
Apply a final coat of lacquer (optional).
Dry Dyes
Dry dyes, such as KODAK Retouching Colors (CAT 189 0888), are well suited for coloring large areas and achieving subtle, pastel tones.
Dry the print thoroughly with a hair dryer to remove any residual moisture.
Soften the dye cake by breathing on the cake of dye. Do not use ,uater to soften the cake.
Pick up dye from the cake and apply with a cotton tuft, working in a circular motion, and covering the area completely.
Buff the colored area with clean cotton until the color is smooth and even.
For more definition, remove color from the highlights using cotton and Remover for KODAK Retouching Colors (CAT 194 6730).
Buff to blend the edges.
To set the color, hold the print 6 to 8 inches from a steam source for 10 seconds, or until the waxy appearance disappears.
Remove unwanted dye before steaming with Remover for KODAK Retouching Colors. Remove it after steaming with 5 percent clear ammonia.
Apply a final coat of lacquer (optional).
Other Coloring Options
there are many color media options, each with a different
wet of colorfastness and ease of use. The following are
st a few suggestions. Experiment, and see what suits
dour style and subjects best. Use your imagination.
Pastels-for soft-looking, large-area applications
Opaque oils and acrylics-for a brush-painted look
Pencils-for small details
Felt-tipped markers-for selective color and bold graphics
Oil sticks-for the combined qualities of opaque oils and pastels
Airbrush-for even color with good control
Watercolors-for delicate, luminous color
Food dyes and natural plant dye-for effective, inexpensive color
Artists inks-for a wide range of strong colors


Characteristic Curves

| | |
| --- | --- |
| | |
Spectral-Sensitivity Curves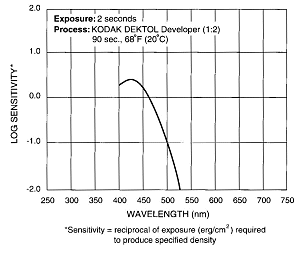 NOTICE: The sensitometric curves and data in this publication represent product tested under the conditions of exposure and processing specified. They are representative of production coatings, and therefore do not apply directly to a particular box or roll of photographic material. They do not represent standards or specifications that must be met by Eastman Kodak Company. The company reserves the right to change and improve product characteristics at any time.
MORE INFORMATION
Kodak has many publications to assist you with informa tion on Kodak products, equipment, and methods. The following pamphlets are available from Kodak through the order form in KODAK Publication No. L-1,
KODAK Index to Photographic In formation. To obtain a copy of L-1, send your request with $1 to Eastman Kodak Company, Department 412-L, Rochester,
New York 14650-0532.
E-67 Finishing Prints on KODAK Water-Resistant
Papers
G-23 Toning KODAK Black-and-White Materials
K-4 Hou Safe Is Your Safelight?
O-10 Retouching Black-and-White Negatives and
Prints
The following book is available from photo-specialty dealers who sell Kodak products:
R-20 KODAK Black-and-White DATAGUIDE

Kodak, Kodafix, P-Max, Polymax, Dektol, Ektafio, Royalprint, Ektonol, Kodafix, Poly-Toner, and Dataguide are trademarks.