KODAK POLYMAX Fiber PAP E R KODAK POLYMAX Fiber Paper is a high-speed, single weight, black-and-white, enlarging paper with a fiber base. Able to accommodate an extended range of negative contrasts, and exhibiting excellent tone reproduction,
this paper is ideal for commercial, advertising, and display applications.
This selective-contrast paper has a wide contrast range that you can control with filters such as KODAK POLYMAX Filters. The paper yields exceptional highlight detail and shadow separation. It is a projection-speed paper suitable for enlarging or contact printing, and is intended primarily for tray processing. Your prints will exhibit bright whites and a neutral image tone when processed in KODAK POLYMAX T Developer or KODAK DEKTOL Developer.
It is available in F and N surfaces in a variety of sheet and roll sizes.


FEATURES
BENEFITS

Good highlight tone reproduction

More detail in highlights

Good separation among shadow tones

Enhances performance of KODAK T-MAX Professional Films

Film and paper combination capable of handling higher original-scene luminance ratios
Optimized for tone reproduction
Increased latitude

Accurate low-contrast tone reproduction

Better prints from contrasty negatives

Exceptional print quality

Very wide contrast range with KODAK POLYMAX Filters

Accommodates much wider range of negatives with POLYMAX -1 and 5+ Filters

Crisp, clean whites
Added brilliance

Tolerant of processing variations

Less control needed during tray processing

BASE AND SURFACE CHARACTERISTICS

Symbol
Texture
Surface
Base
Tint
Base
Weight
F
Smooth
Glossy*
White
SW
N
Smooth
Semi-Matt
White
SW
* When ferrotyped. This paper dries with a smooth lustre when dried on screens, blotters, or non-ferrotyping dryers.

SAFELIGHT RECOMMENDATIONS


Use a KODAK OC Safelight Filter (light amber) in a suitable safelight lamp with a bulb of 15 watts or less at least 4 feet (1.2 metres) from the paper. Minimize safelight exposure to avoid unwanted quality changes. Be especially careful if you use other types of safelights.
Note: Do not use a KODAK OA Safelight Filter (greenish gellow). See KODAK Publication No. K-4, How Safe Is Your Safelight? for information on safelight testing.
STORAGE AND HANDLING
Store paper in a cool, dry place (preferably at or below 70F [21C] and at a relative humidity of 30 to 50 percent). High temperatures or high humidity may produce undesirable changes. Always rewrap unused paper in its original packaging (the outer box as well as the bag) to protect it from light and moisture. Avoid or shield the paper from exposure to radioactivity or x-rays.
EXPOSURE
Light Sources
Expose this paper with tungsten or tungsten-halogen enlarger lamps, and automatic printers. You can use other light sources, such as cool-white fluorescent lamps, mercury-vapor lamps, or cathode-ray tubes but you may need to use correction filters in addition to the filters for contrast control. For best results, make test prints to determine the optimum filtration for each light source.
If you use a subtractive color-head enlarger with dichroic filters, magenta and yellow filtration may not be sufficient to achieve the highest and lowest contrast the paper can deliver. In this circumstance, use the white light mode
(if available) and POLYMAX 5+ and -1 Filters.
Filters
To achieve the widest possible contrast range with this paper, use KODAK POLYMAX Filters. These filters provide twelve contrast increments with improved contrast spacing with this paper.
You can use the POLYMAX Filter Set above or below the enlarger lens. The POLYMAX Filter Kit is similar to the set except it's mounted in plastic filter mounts. You can use these filters below the enlarger lens. They are supplied in a hinged plastic box with a filter holder and adapters to fasten the holder to the red filter post or to the lens.
If you already have the 11-filter KODAK POLYCONTRAST II Filter Kits or Sets, you will only need to purchase two new filters (POLYMAX Filters -1 and 5+) to upgrade your set. Add the POLYMAX Filter -1 to your current set of POLYCONTRAST II Filters, and substitute the POLYMAX 5+ Filter for the old POLYCONTRAST II Filter 5. You can also use other manufacturers' filters with this paper, but results may not be the same. For critical applications, make tests to determine the paper contrast.
The filter kit, filter sets, and filter upgrade sets (to upgrade the former POLYCONTRAST II Filters to the newer POLYMAX Filters) are available from dealers who supply Kodak professional products. See the following tables for the correct catalog numbers. Contact Kodak if you need more information.
Note: Use gelatin contrast-control filters below the lens (between the lens and paper). Acetate filters made by Kodak and other manufacturers should go above the lens (between the light source and the negative).

Filter Kit and Sets
KODAK POLYMAX Filters (12 Filters)
Filter Kit
CAT 365 6212
Filter Set
(90 x 90 mm)
CAT 365 7699
Filter Sets
(150 x 150 mm)
CAT 366 1949;
(300 x 350 mm)
CAT 365 7798*
Upgrade Sets
KODAK POLYMAX Filters -1 and 5+ (2 filters)
to upgrade the former 11-filter
KODAK POLYCONTRAST II
Kits and Sets t
Upgrade Set
CAT 365 4779
(to upgrade
former Filter Kit)
Upgrade Set
CAT 364 9027
(to upgrade
former Filter Set
[90 x 90 mm])
Upgrade Set
CAT 366 0677
(to upgrade
former Filter Set
[150 x 150 mm])
* Special order
t Made before May 1992
ISO PAPER SPEED AND RANGE-Processed in KODAK DEKTOL Developer at 68F (20C) for 90 seconds.
POLYMAX Filter
No
Filter
-1
0
'/2
1
1'/2
2
2'/2
3
3'/2
4
4'/2
5+
PaperSpeed
(F and N Surfaces)
P640
P320
P320
P320
P320
P320
P320
P320
P320
P320
P160
P160
P160
PaperRange*
F Surface
N Surface
R100
R90
R180
R160
R130
R130
R130
R120
R120
R110
R120
R110
R110
R110
R110
R100
R100
R90
R90
R80
R80
R70
R70
R60
R50
R50
* These numbers indicate the relative ISO ranges of different contrasts produced with KODAK POLYMAX Filters. The ranges were calculated from the log exposure ranges of the paper. You can use them as guides for selecting the appropriate paper contrast for the density range of a specific negative. When the ISO range of the paper approximately equals 100 times the density range of the negative,the contrast of the print will usually be satisfactory. (For convenience,the log exposure ranges have been multiplied by 100 so that the ISO ranges are expressed as whole numbers.) The contrast you choose
will also depend on the nature of the subject.



FILTRATION VALUES FOR COMMON BLACK-AND WHITE AND COLOR ENLARGERS

The contrast of selective grade papers is adjustable through changes in the color of the light exposing the paper. Because enlarger lamps and filters can vary from one manufacturer or model to the next, the contrast performance of POLYMAX Fiber Paper can also vary depending upon the equipment used.
ANSI standards define a contrast method called "Log Exposure Range" (LER). Kodak relates LER to paper grade numbers to classify seven degrees of contrast. You can use the information in the following chart as a guide for selecting the filtration required to achieve a desired paper grade when printing with some commonly available color and black-and-white enlargers.
The age of the lamp and the condition of the filters can affect the contrast you will actually achieve. Use the data in the chart as a starting point only. If you cannot obtain as high a contrast as indicated in the chart, you may have to replace the magenta filter. Compared to yellow filters, magenta filters are more susceptible to fading caused by heat.
The data for the chart was generated by placing a step tablet in contact with the paper on the easel. Slightly different results are obtained using a step tablet at the negative gate.

KODAK POLYMAX Fiber Paper Grade Numbers for Various Enlargers

Tray, KODAK DEKTOL Developer (1:2) 90 sec., 68F (20C)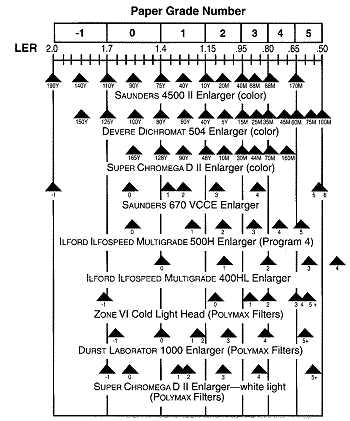 Examples: With a SUPER CHROMEGA D Enlarger (color head), you can obtain paper grade 1 with 90Y dichroic filtration. To obtain paper grade 0, dial in 165Y filtration.
With the same enlarger, if you dial out all filtration to give white light, using a POLYMAX 5+ Filter will yield paper grade 5.

PROCESSING

This paper is intended primarily for tray processing. Do not process this paper in the KODAK ROYALPRINT Processor, Model 417; KODAK DEKTOMATIC 65 Processor; KODAK POLYMAX IR Processor, or similar roller-transport processors. You can machine-process roll formats of this paper in continuous type processors if the wash cycles are adequate for single-weight, fiber-base papers.

Tray Processing
Tray develop with continuous agitation at 68F (20C), using the appropriate dilution and development time recommended in the following table.


KODAK
Chemical
Dilution
(chemical:
water)
Time
(min:sec)
Capacity
(8 x 10-inch
Prints
per gal/L)
Developer-68F (20C)
DEKTOL (powder)
DEKTOL (liquid)*
POLYMAX T
1:2
1:9
1:9
1:30
1:30
1:30
120/32
120/32
120/32
Stop Bath-65 to 75F. (18 to 24C)
Indicator
EKTAFLO
1:64
1:31
0:15
0:15
80/20t
80/20t
Fixer/Replenisher (single bath)#-65 to 75F (18 to 24C)
Nonhardening fixer (for general printing and for toning):
Rapid Fixer,
Solution A (do not
use Solution B)
1:7
5:00
100/26
Hardening fixers (for general printing and mechanized processors)$
KODAK Fixer
POLYMAX T
Rapid Fixer
(Solution A and B)
KODAFIX Solution
-
1:7

1:7
1:7

10:00
5:00

5:00
10:00

100/26
100/26

100/26
100/26

Wash-
With Washing Aid-65 to 75F (18 to 24C):
Hypo Clearing
Agent
stock
solution
1:4
2:00
80/20 without
pre-rinse;
200/50 with
1-minute
pre-rinse
Wash
-
10:00
-
Without Washing Aid-50 to 86F (10 to 30C):
-
60:00
-
* Not available in all countries.
t Discard the solution when color changes to a purplish blue.
# To increase capacity, use two fixing baths.
$ A hardening fixer may improve release on ferrotyping drums.

Stop Bath


Bathe prints for at least 15 seconds at 65 to 75F (18 to 24C) with continuous agitation in KODAK EKTAFLO Stop Bath, KODAK Indicator Stop Bath, or 48 mL KODAK 28% Acetic Acid and water to make 1 L.
With EKTAFLO or Indicator Stop Bath, discard the solution when the color changes to a purplish blue. Change Acetic Acid and water stop bath after approximately twenty 8 x 10-inch prints per litre (eighty 8 x lOs per gallon).
Fixing
Fix prints at 65 to 75F (18 to 24C) with frequent agitation. With KODAK POLYMAX T Fixer or KODAK Rapid Fixer, if you use two fixing baths, fix prints for 2 1/2 minutes in each bath, draining for 5 seconds between baths. Fix for 5 minutes if you use a single bath.
With KODAK Fixer or KODAFIX Solution, if you use two fixing baths, fix prints for 5 minutes in each bath, draining for 5 seconds between baths. Fix for 10 minutes if you use a single bath.
Note: Using a hardening fixer makes toning less efficient. For the same amount of processing time, you'll see less of a toning effect.
Washing
Wash for at least 1 hour in running water at 50 to 86F
(10 to 30C), interleaving the prints carefully and frequently. The wash-water flow rate should provide at least one complete change of water in the container every 5 minutes. The KODAK Automatic Tray Siphon provides proper movement and agitation during washing.
Avoid prolonged washing or soaking times to minimize physical damage to the prints and to maintain the effect of the optical brightener in the paper.
To reduce time and conserve water, use KODAK Hypo Clearing Agent before washing. Transfer the prints, with or without a previous rinse, to the clearing agent. With Hypo Clearing Agent, wash for 10 minutes with agitation and normal water flow.
Drying
Remove as much surface water as possible from prints and dry prints in a dust-free place. Place prints face down on cheesecloth, fiberglass, or plastic screen racks; between photo blotters; or on a belt dryer.
For glossy prints made on F-surface paper, transfer the wet prints directly from the wash to a ferrotype dryer (glazing machine) or to clean, wet ferrotype plates. Squeegee the prints into close contact with the plates and allow them to dry.
KODAK POLYMAX Fiber Paper, F Surface KODAK POLYMAX Filters
Characteristic Curves

| | |
| --- | --- |
| | |
Spectral-Sensitivity Curves

| | |
| --- | --- |
| | |
NOTICE: The sensitometric curves and data in this publication represent product tested under the conditions of exposure and processing specified. They are representative of production coatings and therefore do not apply directly to a particular box or roll of photographic material. They do not represent standards or specifications that must be met by Eastman Kodak Company. The company reserves the right to change and improve product characteristics at any time.

TONING
Treatment with a toner extends the life of prints that may be exposed to oxidizing gases or subjected to adverse storage or display conditions. KODAK Toners will protect prints whether or not they produce a tone shift.

Processing
Tone Shift with KODAK Toners
Full
Moderate
Slight
Tray
(DEKTOL
Developer)
Brown
(1:19)
POLY-TONER
(1:24)
POLY-TONER
(1:4)
POLY TONER
(1:50)
Rapid
Selenium
(1 :3)
(1:9)
(1:20)
(1:40)
Sepia
For more information on toning, see KODAK Publication G-23, Toning KODAK Black-and-White Materials. It explains the technique of toning, and describes Kodak toners and their effects on Kodak black-and-white papers and films.

MORE INFORMATION
Kodak has many publications to assist you with information on Kodak products, equipment, and materials. The following pamphlets are available from Kodak through the order form in KODAK Publication No. L-l, KODAK Index to Photographic Information. To obtain a copy of L-1, send your request with $ 1 to Eastman Kodak Company, Department 412-L, Rochester, New York 14650-0532.
G-23 Toning KODAK Black-and-White Materials
G-24 KODAK POLYMAX Fine-Art Paper
K-4 How Safe Is Your Safelight?
The following book is available from photo-specialty dealers who sell Kodak products:
R-20 KODAK Black-and-White DATAGUIDE


Kodak, Dataguide, Dektol, Dektomatic, Ektafio, Kodafix, Poly-Toner, Polycontrast, Polymax, Royalprint, and T-Max are trademarks.