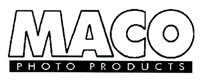 MACO MULTISPEED F (310)
MACO MULTISPEED N (314)
MACO MULTISPEED WA

A short summary of attributes of these black B white photoaraphic papers:

MULTISPEED F, N + WA are modern and high class BBW RC-based papers with variable contrast and have been designed for demanding users.
* Contrast range from soft to extra hard
* Exposure with VC-Filtersets, VC-heads and Colourheads
* Neutral image tone, high max. density
* Extra white RC-base at MULTISPEED F + N,
* Cream (chamois) tinted RC-base at MULTISPEED WA
* Suitable for tray-and und machine processing
* No developer additives incorporated

1. General data in regard of the silverhalogenide photographic emulsion:
Type:


-Chlorobromide-emulsion, variable contrast
- high silver content
- high speed
2. Description of surfaces:
Glossy
Matte:
Matte:
MULTISPEED F
MULTISPEED N
MULTISPEED WA
3. Image tone of the photographic emulsion:
All MACO MULTISPEED papers have an emulsion with neutral black image tone. The image tone can be manipulated by choice of developer.
For example:




LP-BROM 1
Calbe MH 28
LP-BROM 3
LP-BROM 4
MACO ecoprint
- warm image tone
- very warm image tone
- cold image tone
- neutral image tone
- cold image tone
4. Tone of the basematerial:
MULTISPEED F
MULTISPEED N
MULTISPEED WA
- white RC-base
- white RC-base
- cream tinted-base (chamois)
5. Paper ISO Speed + ISO Range /selection of grades/Filter:
(Grade 2,
without Filter
P400
R100)
By useage of generally available VC-filters for filter drawer:
Grade:
Filter:
ISO Speed:
ISO Range:
Grade 0,
Grade 1,
Grade 2,
Grade 3,
Grade 4,
Grade 5,
with filter 0
with filter 1
with Filter 2
with Filter 3
with Filter 4
with Filter 5
P 200
P 200
P 200
P 150
P 100
P 100
R 140
R 120
R 100
R 80
R 65
R 50
Note:
A.m. speed values are valid for white base papers, due to a lower reflective power of cream tinted base, paper speed will be approx. one f-stop lower .

6. Filtervalueslenlargers with colorheads:
MACO MULTISPEED papers can either be exposed by using filtersets (E.g. LABOR PARTNER VC-Filter, ORIENTAL Acrylic VC-Filter or ILFORD Multigrade Filter, table above) or with enlargers with VC-head. With colorenlargers take following values as a starting point: (check whether your enlarger has DD - or CC-filtervalues)
Grade

| | | | | | | |
| --- | --- | --- | --- | --- | --- | --- |
| | 0 | 1 | 2 | 3 | 4 | 5 |
| DD-Values | 60Y | 25Y | 10M | 30M | 60M | 130M |
| CC-Values | 80Y | 30Y | 10M | 50M | 110M | 200M |
Depending on age of lamp, type of filter and enlarger deviations to a.m. values is possible.

7. Maximum density:
The glossy surface achieves the highest values (MULTISPEED F). Matte Surfaces achieve lower values in comparison.
Following (approx.-) values have been achieved with a negative (Gamma 0,60) in combination with the paper developer LP-BROM 1:
MACO MULTISPEED F
MACO MULTISPEED N
MACO MULTISPEED WA
- max. Dens. 2,25
- max. Dens. 1,75
- max. Dens. 1,75
8. Coating structure (top to bottom):
1. A-protective coating
2. B- protective coating
3. A-emulsion coating
4. B-emulsion coating
5. RC-base
6. Antistatic coating, specially treated for writing, stamping; mounting and laminating possible with all RC- suited hot and cold procedures

9. Toning:
MACO MULTISPEED photographic papers can be toned in almost all available toners. Following some application examples:

Deep, brown blacks:


A: Treatment in PEERLESS watercolors.
B: Toning in LABOR PARTNER LP-SEPIA.

Light brown/ yellowish
A: Toning in LABOR PARTNER LP-SEPIA with adding vinegar.
Bluetoning:
A: Toning in LABOR PARTNER LP-AZUR.
Toning with LP-SELENIA


A: Increasement of max. density.
B: Improvement of archival quality (image silver)
C: Change of image tone
For gelatine toning, whether partially, or full image, using PEERLESS-watercolors( U.S.A.) has been proven for more than a century.

10. Retouching:
For MACO MULTISPEED papers PEERLESS-watercolors "DRY SPOT SET" have been proven. The colors may be adjusted to the image tone and leave no marks on the surface.

11. Darkroom safety light:
Protectice filter red or amber. Max. 15 Watts, minimum distance Lamp - tray 120 cm (a fogging test may be recommendable). .

12. Informations for wet processing:
MACO MULTISPEED papers can be processed in trays as well as in developing machines.Suitable are all available quality photographic chemicals.
Best results are possible with MACO or LABOR PARTNER photographic chemistry:
For trays:

Developer:
or
Stopbath:
or
Fixing bath:
or
LP-BROM 4, (neutral image tone, high speed)
MACO ecoprint, (cold image tone)
LP-CITRIN, (citric acid base, odorless, with indicator)
MACO ecostop
LP-FIX SUPRA, (High energy fixer, low pH-value)
MACO ecofix, (High energy fixer, neutral pH-value)
For machineprocessing

without Regeneration:
with Regeneration:
LP-SPEED 2000 TL, (complete set of developer and fixer)
LP-SPEED 2000 RT, (developer and fixer seperately available)
13. Storage:
Original MACO packages, once opened, should be stored in a cool and dry place. Packages feature easy opening on opposite side of label, punches under the lid allow for easy closing.

14. General informations about MACO-Products:
By sending a sufficiently stamped envelope with the address, one can receive technical application sheets about all MACO Products, of which some have been mentioned here.

TA MULTISPEED TA-No. 10111 January 1998
Errors, or omissions regarding technical progress, remain excepted.

MACO PHOTO PRODUCTS is a Division of HANS O. MAHN & CO., P.O. Box 105202, D-20036 Hamburg Hotline: 040-237 008-88