Human race
Man-Woman-kind
Human beings
Persons
People
...living, loving, fighting,
evolving, ageing, dying,
creating, thinking, meditating...
...photographing...
on a tiny blue-white sphere
near the edge of the Universe.
Humanity of colors and hues, of religions,
beliefs, philosophies, languages...
...of sub-races and tribes...
...of different but basically same conscious entities
Humanity seeking the self-portrait of its collective "I"...
We are exploring Life and Existence
through the antithesis of white and black,
light and shadow
in photographs of...
text by Victor Bafis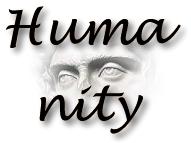 You are invited to share with us your inspirations , by participating in our 1998 open participation theme study " Humanity."
You may single out a theme that brings out your view of Humanity in Black and White pictures.
We accept unpublished and previously published or shown photographs.
We shall exhibit all " Humanity " photographs sent to us until 30-November-1998.
Participation is totally free of charge. You may participate with a minimum of 1 up to a maximum of 4 photographs. If you choose to participate with more than one photographs then these photographs must be aspects and/or parts of a single thematic unity and not of different subjects !
We don't accept anonymous participations !
Every participation must be accompanied by a short text (up to 500 words ) describing the artist's view of Humanity and the relation of his/her participating photograph / photographs to it.
We remind you that we never buy or sell photos !. We simply love, enjoy and promote Art in Internet.


P.S. Black and White Artzone's award is the presentation of every participating artist's notion of Humanity.


Guidelines for " Humanity " photograph submissions.