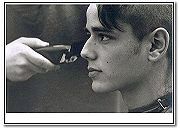 ©1997 Michalis Neofytos
Metamorphosis
by Michalis Neofytos

The Army ; A mosaic of people, ideas, personalities. Being a Soldier means going to sleep at the same time every day, waking up at the same time, eating thinking even getting drunk at the same time, day after day. People with different lives. Lives that ........